Childhood Oral Hygiene and The Role Parents Play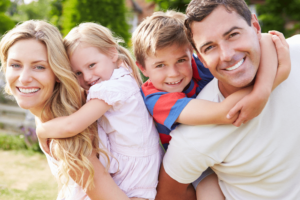 The foundation for healthy teeth is established during your child's first years of life. Making healthy food choices, brushing well and visiting the dentist for regular checkups are all practices that will help prevent issues with your little one's tiny teeth now, and ensure the development of strong and healthy permanent teeth.
As parents, you serve as role models for this behavior—children learn best through imitation. However,  involvement in your child's oral health is also key during the early years, when dexterity is still developing.
Here are some tips for parents to help keep your child's oral health on the right track from the time they are born to the time they are ready for middle school:
Before your infant's first teeth erupt, gentle rubbing, massaging and dry brushing with a finger brush can be helpful for soothing sore gums. This is also a great way to gradually introduce your child to an oral hygiene routine for when their baby teeth emerge. 
As soon as the first teeth show up, parents should begin brushing them. Use a pea-sized amount of children's non-fluoridated toothpaste. A finger toothbrush can make the process easier, ask if your pediatric dentist provides them .
Brush your child's teeth yourself twice per day (if you can!) until about age 2. At this point you can switch to a small amount of regular toothpaste. When they start wanting to brush themselves, encourage them but re-brush the hard to clean areas. 
At age 6, children are usually able to brush their teeth well on their own. In this phase, parents should continue supervising regular brushing efforts, and should do so up until around age 12 when the second molars come in.
To learn more about how to best keep your little one's oral health on track give us a call or click below to schedule an appointment:
 Contact us today!
Humble Kids Dentistry is a colorful, fun place to be, and is built specifically with children in mind. The open bay treatment areas, child friendly themes and parent-friendly atmosphere is designed to enhance your family's dental visit. Dr. Arya Davoody and our dental team are highly trained and experienced in caring for children. We strive to deliver fun, caring dental experiences to our patients and take pride in caring for our community by providing high quality, conveniently accessible, compassionate oral health care.