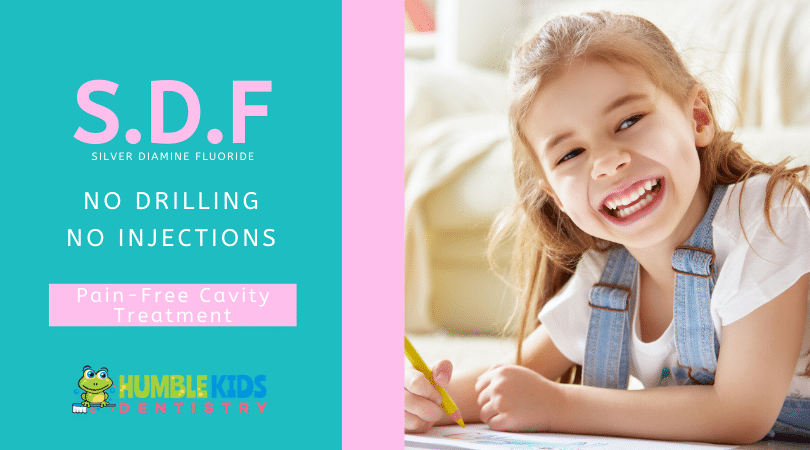 Is your little one afraid of the dentist's office? For many kids, having a cavity filled can be a stressful experience. At Humble Kids dentistry we offer a quick and painless alternative to drilling. Silver Diamine Fluoride (SDF) is a safe, antimicrobial liquid that can be used to treat cavities in baby teeth without causing the discomfort or stress associated with traditional fillings.
When a cavity forms and tooth decay occurs, dentists have traditionally relied on removing the decay manually, using a drill and applying a dental filling. While highly effective, the procedure can be uncomfortable and even scary for a child, especially those who are sensitive or who have difficulty staying still and may need sedation.
Is it worth the stress?
Some parents may wonder if putting their child through the stress of cavity filling is even worth it when the primary tooth will soon fall out and be replaced by a permanent, adult tooth. Unfortunately, tooth decay, if left untreated, can spread from the affected tooth to healthy teeth nearby, creating more cavities. The cavity is also likely causing your child pain and sensitivity.
A pain-free solution:
SDF treatment provides an effective and safe way to stop the bacteria that causes tooth decay in its tracks. It also makes sure that it doesn't spread to any neighboring teeth. The best part is that it is completely painless and does not require any drilling, injections or noisy dental tools! The liquid is simply brushed onto the affected area of the tooth killing the bacteria and sealing the cavity. This not only stops the development of the cavity, but also the pain or sensitivity it may have been causing.
Who is SDF for?
SDF has been in use worldwide for decades and it has shown to be an easy, highly effective and safe treatment for dental cavities. It's also less expensive than traditional fillings, especially in instances where sedation may be required. SDF does stain the portion of the tooth that was affected by the cavity so it is most often used with children whose baby teeth will be replaced by permanent teeth or on back teeth where the stain is less visible.
We never want our patients to feel anxious about an upcoming visit to our office. That's why we are happy to offer a no-drill, pain-free solution for when cavities do occur.
Click below to schedule an appointment and find out why SDF treatment is just one reason to hop on over to Humble Kids Dentistry!
Contact us today!
Humble Kids Dentistry is a colorful, fun place to be, and is built specifically with children in mind. The open bay treatment areas, child friendly themes and parent-friendly atmosphere is designed to enhance your family's dental visit. Dr. Arya and his team are highly trained and implement the highest level of technology in the dental field. We strive to deliver fun, caring dental experiences to our patients and take pride in caring for our community by providing high quality, conveniently accessible, compassionate oral health care.